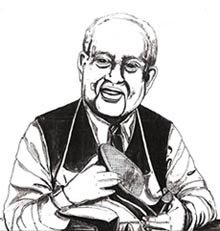 High up in WALE Street in Cape Town, where the steep roads of the Bo-Kaap begin, an elderly man is seated at the back of a minute store, repairing shoes from daybreak to dusk. True, he uses a modern sewing machine, but the rest of his equipment is from a time long past. The traditional leather apron of leather workers tied to his waist, needle in hand, Mr Kasan Jaga works on an old last, carefully repairing shoes by hand.
Mr Kay, as he is known to all, has been a cobbler in the Bo-Kaap, also known as the Malay Quarter, since 1936. He and his two sons, Bhadra and Gunwant, and their sons Roshan and Rajesh, runs a business which has been a Cape Town institution for almost 100 years.
It was Mr Kay's father, Jaga Jivan Parmar, a cobbler who left Bombay in 1902 to seek his fortune at the Cape. He started a shoemaker's shop and Kasan, born in 1916, began his apprenticeship at his father's knee at the age of 12.
In the '90's the building was renovated and today, people come from as far as Gauteng to have shoes repaired, resoled and stitched by Rocksole in the traditional way.
Mr Kay'S legacy is carried on by his sons and grandsons who continues a tradition which goes back a long way.